From outside appearances, our lust girl of the issue, Kim Kardashian, appears to have the best life imaginable. She?s young and Beverly Hills rich, has a ton of fun with her friends (who happen to be the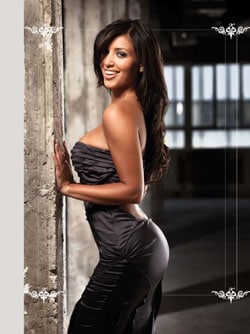 socialites you read about in major gossip columns), and, as you can see by the photos, she?s very sexy.
But as is often the case, photos don?t do a person justice. As the images show, she?s beautiful. But in person, she is stunningly beautiful, with a charm that exceeds her looks. It didn?t take more than two minutes with Kim to see that she is the entire package. Nothing missing. She?s a dream girl with a dream life.
Kim was born October 21, 1980, to Kris and Robert Kardashian, the high profile defense attorney in the O. J. Simpson case. Her parents had four kids together-three girls and a boy-and after they were divorced, her mother then married Bruce Jenner, the famous Olympian, who already had three boys and a girl. Kim calls it the Brady Bunch": All eight children lived in the same house, and then Bruce and Kris had two more kids together.
She went to an all-girls Catholic high school, and after graduation, worked at her father?s business, Movie Tunes, every day for five years. Her father passed away in 2003, but she continued to work for his business for several more years. She was very close to her father and says about his passing, "We?re supposed to learn something from it. If you don?t learn, you don?t get stronger. It forced us to grow up and make it on our own. We were all super dependent on him emotionally."
One of Kim?s jobs is as a wardrobe stylist for infomercials, TV shows, photo-shoots, and music videos. She also holds what could be the most unique job in existence. The gig? She organizes, overhauls and designs closets for celebrities. These are people who have so many clothes-more than any mere non-super-rich mortal could possibly imagine-that finding what they want in a reasonable period of time is impossible.
Kim explains its beginnings. "My closet business came about when I was at my godparents? house, Sugar Ray Leonard and his wife Bernadette. Bernadette?s closet was massive and had so much stuff in it. I said to her, ?You really need to clean out your closet.? Well, we spent the whole night doing that." Kim convinced Bernadette to sell the  designer clothing on eBay rather than throw it away. She was so successful at it that Bernadette started recommending Kim to her friends. Soon, celebrities like Kenny G, and Rob Lowe and his wife, started hiring her. Before long, Kim was organizing and cleaning out closets for everyone from Cindy Crawford to Serena Williams, as well as friends like Nicky Hilton and Nicole Richie. Her clients jokingly tagged her with the moniker, "Queen of the Closet Scene." However, the person with the biggest need for her services was her best friend Paris Hilton, who had clothes on racks in her garage and all over her house. Kim convinced her to convert a bedroom into a closet-complete with carpeting, mirrors and other designer touches. And with Paris, it wasn?t a trivial project. "I had to organize and color-coordinate it, and help her with my styling advice, what she needs to get rid of, what she needs to fill back in, you know, do personal shopping. With her, it was mostly getting rid of stuff because she?s a compulsive shopper. Now, her garage is filled with clothes again. It?s overwhelming." Those are just two of the things that keep Kim?s work life busy. This past June, with her sisters Khloe and Kourtney, she opened up a designer clothing store called Dash, in Calabasas, California, to further explore her love of fashion. "I love it because I get to meet with all the designers, and go to all the showrooms. I hand-pick everything in the store, carry everything I love."
Kim is especially proud because she and her sisters funded it on their own. "It?s such a gratifying feeling that I?m taking care of myself. I have a friend that was joking the other day that this is her first month paying for herself ever in her life. She?s twenty-six, and I have almost ten years? work experience on her." To open the store on budget, they collared their step-dad, Bruce Jenner, to paint the walls and put up the moldings.
You may say that?s overkill, having one of the greatest athletes in the last 30 years kick in his physical tools, but hey, why not? He?s family.
All work, no play? I don?t think so. Kim just got back from a long summer vacation, hanging out with Paris at Oktoberfest, on the beaches and on yachts in St. Tropez, and in Milan with Dolce and Gabbana. She says of that trip, "When in life do you go on a trip like this with your best friends, all girlfriends? I?ve never had more fun in my life!"
Her ultimate goal, besides marriage and a big family like the one she grew up in, is to design clothes. Her little sister?s godmother, Kathy Lee Gifford, gave her advice she takes to heart: "Find what you love to do, figure out a way to make money at it, and you?ll be happy."
From the outside, it looks like Kim lives the dream life, hanging out with celebrities, traveling the world, doing anything she wants. So I ask her, "Is it as good as it looks?" "Yeah," Kim says laughing. "I can?t lie." Look at her photos and you?ll see she?s telling the truth-it is as good as it looks. Actually, it?s better.